Our aesthetician at Plastic & Reconstructive Surgery of Acadiana at Lafayette General is well trained at performing chemical peels using Skinceutical's® MicroPeel® on patients in Lafayette, LA to exfoliate and hydrate the skin leaving a fresher and younger appearance.
WHAT IS MICROPEEL®?
The MicroPeel® by SkinCeuticals® treatment is a three-step process that combines manual exfoliation (
dermaplaning
) with chemical exfoliation and cryogenic therapy. The MicroPeel® is a mild, clinical grade peel that exfoliates while simultaneously hydrating the skin.
BENEFITS OF MICROPEEL®
Improves skin texture and radiance
Supports healthy collagen levels for firmer skin
Accelerates skin's natural exfoliation process
Stimulates collagen synthesis and remodels existing collagen and elastin
Improves skin tone and texture
Softens and smoothes skin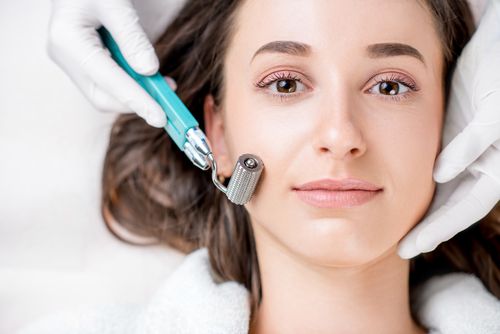 MICROPEEL® PROCEDURE
MicroPeel® can only be administered by a trained physician or aesthetician. Our medical experts at Plastic & Reconstructive Surgery of Acadiana at Lafayette General are experienced with the SkinCeuticals® MicroPeel® procedure and will ensure you receive the maximum benefits from this unique peel.
The 3 steps of the Skinceuticals MicroPeel:
Dermaplaning – A manual exfoliation technique that safely and efficiently removes surface debris with a dermaplaning blade, priming the skin for the chemical peel solution.
Chemical Peels – Using optimized solutions formulated for resurfacing the skin by removing the outer epidermis and stimulating collagen remodeling to improve hyperpigmentation, fine lines, and wrinkles, texture and skin impurities.
Cryogenic Therapy – This anti-inflammatory and antibacterial freezing procedure increases the rate of cell turnover and leaves skin feeling cool and tight.
PREPARING FOR MICROPEEL®
MicroPeel® is not a one-off treatment. A course of treatments
are
required which will be assessed and recommended for you during your initial consultation.
MICROPEEL® RECOVERY
Most patients find the MicroPeel® procedure to be comfortable, with minimal discomfort. You may experience some itching, burning, flaking skin, and redness after your treatment. Additionally, some areas of your skin may heal faster than other areas.
After completing the MicroPeel® process, patients will have visibly smoother and younger-looking skin. MicroPeel® minimizes fine lines and wrinkles, brightens the skin, decongests pores, and significantly reduces visible skin imperfections.